Spirit of the Herb Healing
This style of healing focuses on clearing emotional issues held within your body and auras.
For this healing you choose a herb you feel drawn to work with during your healing session. I ask that you inform me of your choice of herb prior to your session, so that I can tune into the herb's energy spirit before the time of your appointment. I am then guided by the spirit of the herb as it shares its wisdom, essence and energy, showing me how to work with it within your energy fields.
You will need to bring along with you sprigs or stems of the fresh herb plant you have chosen. This can be from your own garden or purchased in a garden centre or supermarket.
The session is carried out with you lying on a treatment couch, whilst I work with the spirit and energy of the herb within your energy fields. Every client's experience is individual and personal to them.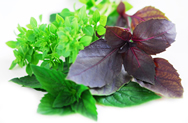 Please be assured that all sessions are totally confidential.
For further information, or to make an appointment please call me on 01306 882229 or 07790 614448. I look forward to speaking with you soon.
You can also e-mail me here.