Munay-Ki Rites
The prophecies of the ancient Americas speak about this time as a period of great transformation, a time to make an extraordinary difference in the world. They foretell of a new human appearing on the planet - a person of wisdom and power who lives free of fear and abides in their eternal nature, accepting stewardship for all creation.
The Munay-Ki Rites are energetic transmissions that transform and upgrade your luminous energy field (LEF). They can heal the wounds of the past; your karmic and genetic inheritance. Munay-Ki means 'I love you' in Quechua, the language of the people of the central Andes of South America.
These beautiful and special Rites give you the opportunity to have the power and wisdom to become a steward for all creation. The Rites are common to all shamanic traditions.
A Brief History
The Munay-Ki Rites derive from the great initiations from the Hindus Valley that were brought to the Americas by the first medicine men and women who crossed the Baring Straits from Siberia during the glacial period some 30,000 years ago. These courageous travellers known as the Laika, were the Earthkeepers of old. Now the Shamans of South America are beginning to pass this wisdom to the West.
Stewardship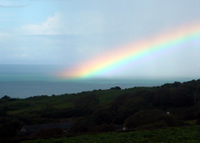 These rites should not be taken on lightly. If you feel drawn to them, then trust your intuition. The Laika felt that people would come to the Munay-Ki when they were called and ready and that continues today. Your task in accepting stewardship for all of creation is not to be used as an ego based thing, neither is it recognition of personal achievement. It is about the uniquely silent acts and thoughts within your stewardship and carried out by you, which will be truly of service and allow the rites within you to flourish.
Luminous Energy Field
Your luminous energy field contains an archive of all of your personal and ancestral memories, of all early-life trauma and even of painful wounds from former lifetimes. These records or imprints are stored in full colour and intensity of emotion. Imprints are like dormant computer programmes that when activated compel us toward behaviours, relationships, accidents and illnesses that parody the initial wounding. Our personal history indeed repeats itself.
By accepting these Rites you are opening your luminous energy field to become what the Laika call a 'Rainbow Body'. On receiving the Rites each chakra starts cleansing itself of all past traumas and begins to glow with its original 'rainbow' colour.
You will also be assisted by, and feel the presence of Earthkeepers, who lived on this planet many thousands of years ago. These luminous beings, who are now part of the great Matrix of life, will add their power and vision of a new world, to yours.
"Only time will tell what the deep effects are for my receiving of the rites, but what I felt instantly, was a closing of a gap between me and my consciousness, between illness and wellness. It all merged together, and that was extremely powerful. The past seems less relevant to me and my future sparkles ahead of me. What I got from this workshop fits beautifully with my future plans and my interest in looking after the environment. What the rites have done for me is very exciting! Judith is an excellent gifter of the rites, she will really make sure you are at ease and creates a great space for these life changing rites. If you feel drawn to these rites, even if you are unsure why ... do it!"
The Rites
The Rites are place directly into your luminous energy field (LEF).
1st Rite – Bands of Power – consists of protection installed into your LEF
2nd Rite – Healer's Rite – connects you to a lineage of Earthkeepers
3rd Rite – Harmony Rite – connects you to seven archetypes placed into your chakras
4th Rite – Seer's Rite – connects you to the invisible world
5th Rite – Daykeeper's Rite – connects you to the process of healing your inner feminine
6th Rite – Wisdomkeeper's Rite – supports you in protecting the medicine teachings
7th Rite – Earthkeeper's Rite – connects you to the Archangels of our Galaxy
8th Rite – Starkeeper's Rite – anchors you safely to the time after the great change
9th Rite – Creator Rite – awakens the God-light within you

My experience of the Munay-Ki Rites has been very deep and profound. Following several months of absorbing the energies and healings, I realised that I was really being helped and guided to 'walk my talk'. My sense of oneness with the earth and all creation has deepened further, along with my connection with spirit. I feel very blessed to have received these beautiful and special Rites.
I regularly run courses to pass on these Rites either in small groups or one to one.
For further information, or to find out course dates to receive these Rites please call me on 01306 882229 or 07790 614448. I look forward to speaking with you soon. You can also e-mail me here.