Chumpi Paqo Initiation
In Andean Mysticism Chumpi Paqo refers to a paqo (shaman or mystic), who has been initiated with the chumpi khuyas (chumpi stones), to activate the energy centres of their human body.
The Andean Q'ero priests (shaman) believe that we have four primary, and three secondary energy centres in the body which are called chumpis (similar to chakras). In Quechua, the language of the Q'ero people, chumpi means 'belt'. These 'belts' of power extend around the body and have an opening, or eye, called a nawi. Each of these belts is associated with a colour and element. They are connected to the Middle Path (chaupi) working between the skin and the inside of the aura or energy bubble.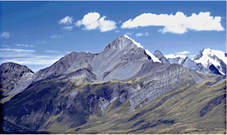 Once you have been initiated and become a Chumpi Paqo you will find it awakens your senses; you will have a better connection to energy, nature and the elements. Every sense gets heightened and you can have more clarity with higher consciousness. Working with these belts and nawis is how the Andean Q'ero priests connect to living energies.
I feel very blessed that my lineage is close to its source which started with Inkari, the first Inka, and flows down through respected and revered Andean priests and shaman.
Once you have been initiated as a Chumpi Paco you are taught how to pass them on to others. For this course you will need to have your own set of Chumpi Khuyas. Please contact me for further information on where to purchase these items if you need to.
For further information, or to make a date for your initiation, please call me on 01306 882229 or 07790 614448. I look forward to speaking with you soon. You can also e-mail me here.