Past Life Healing
If you heal the emotional wounds and relationships of a past life it can have a profound effect on your present life.
A Past Life Healing (Past Life Journey) session is carried out with you lying relaxed on a treatment couch or sat in a chair. I journey on your behalf and view the past life that is chosen as right for you to explore now (which on some level, will be affecting what is happening in your present life).
I then take you on a guided visualisation so that you may create a new vision by healing relationships, emotions and other aspects of that past life.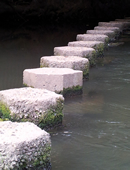 Please be assured that all sessions are totally confidential.
For further information, or to make an appointment please call me on 01306 882229 or 07790 614448. I look forward to speaking with you soon. You can also e-mail me here.