Rainbow Illumination Healing
This Rainbow Illumination Healing can help to release any physical or emotional issues (heavy energies) that are held within your chakras, physical body and energetic bodies.
Rainbow Illumination Healing brings you back into balance.  It can clear the heavy energy from any physical or emotional imprints that are held in your chakras, physical body and energy fields.  When these have been erased, your vibration rises and you are empowered to change negative emotions and patterns of behaviour.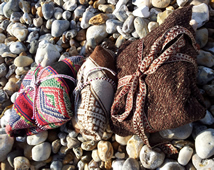 During this healing I work with my sacred stones, tuning into their wisdom and energy to release any 'heavy' energies that you are holding within your chakras, physical body or energy fields. This is an interactive healing session with you lying on a treatment couch whilst we explore the 'landscape' of your chakras with your visualisations, thoughts, feelings and experiences in the moment.
I support and work with you in this space using my sacred stones, breathing techniques, drumming, rattling, feathers and my Amazonian Shacapa, to help release your held heavy energy.
Once the release and clearing has taken place, Rainbow energy is blown into each of your chakras.
Please be assured that all sessions are totally confidential.
For further information, or to make an appointment please call me on 01306 882229 or 07790 614448. I look forward to speaking with you soon. You can also e-mail me here.